Our building is located on the Milano - Bicocca campus, in Piazza della Scienza, 3.
It says "U2 - Fisica" in big shiny letters.
By train
Image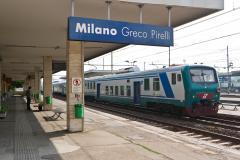 The closest station to the Campus is Milano Greco Pirelli (walking distance). This station is served by many rail lines (regional and sub-urban trains):
S9 Seregno-Milano S. Cristoforo
S8 Lecco-Milano-Pta Garibaldi
S11 Chiasso-Milano Pta Garibaldi
Regional trains:
Milan-Treviglio-Brescia
Milan-Bergamo via Carnate
Milan-Monza-Molteno-Lecco
Milan-Lodi-Piacenza
Milan-Pavia-Voghera
The Milano Greco Pirelli railway station can be reached from the following rail stations:
Milano P.ta Garibaldi in about 7 minutes with 4 trains every hour;
Milano Lambrate in about 7 minutes with the S9 railway line and all trains to and from Brescia, in addition to some trains from Piacenza and Voghera.  
From the Milano Centrale railway station take bus 87.
For more details visit the Trenitalia and Trenord website.
By subway lines
Image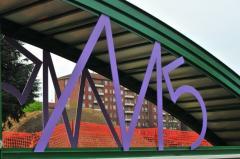 Subway Lilac Line (also known as Line 5): "Bicocca" stop, in viale Fulvio Testi, close to Piazza della Scienza;
Subway Red Line (also known as Line 1) "Precotto" stop + Tram n. 7 (see below in the "tram" section).
By bus or tram
Image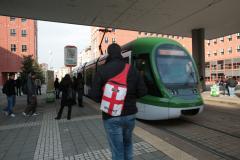 Tram
Line 31: stop "M5 Bicocca"
Line 7: stop "Università Bicocca Scienza"
From Milano Greco Pirelli railway station you can use the Eco-Bus Bicocca
Bus
Line 87: stop "Teatro Arcimboldi", this line runs through the campus itself from Sesto Marelli subway station to Stazione Centrale railway station
Line 52: stop "via Polvani via Pirelli" (in direction "Comasina") or stop "Teatro Arcimboldi" (in direction "Bicocca Università")
Line 81: stop "Breda Rucellai" and take the pedestrian underpass to Piazzale Egeo
For more information about subway, tram and bus you can visit ATM website.